[woocs]
Through the Woods
Through the Woods is a third-person Norse horror adventure set in a forest on the western shores of Norway that tells the story of a mother and her missing son.
Description
System Requirements

Through reactive narration, the player experiences the mother's re-telling of the events surrounding her son's disappearance. Players follow the path of a terrified woman who has forced herself to enter this terrible place for the sole purpose of finding her son, in a setting heavily influenced by Norse mythology and Norwegian folk tales.
With Through the Woods, Antagonist have captured the feeling of the forest as they saw it as children, with all the fear and mystery that comes from roaming through it alone. This is coupled with a powerful story and high quality sound design, which in the darkness of the forest becomes a core mechanic. Through the Woods is a profound experience that directly delivers the feelings of loneliness and loss in a terrifying place…
FEATURES
Explore stunning environments and experience stories inspired by Norse mythology, Norwegian art and nature
Uncover dark tales of the past and present through reactive narration
Creative use of light and darkness generates deceptive environments
A frightening journey accompanied by beautiful and grim sound design
ABOUT US
Antagonist is a small independent game studio based in Oslo, Norway, founded in 2014. The team is focused on creating narrative-driven titles with epic stories and great gameplay.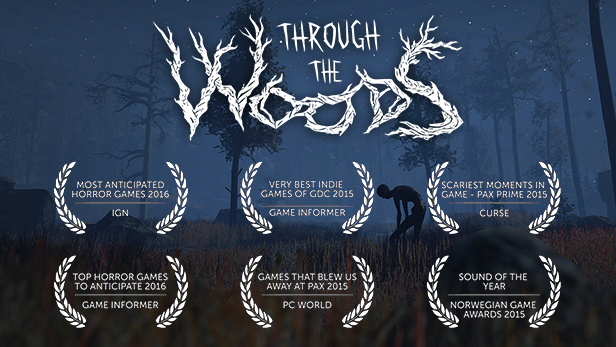 Minimum
OS: Windows 7 / 8 / 8.1 / 10
Processor: Dual-Core 2.8 GHz
Memory: 4 GB RAM
Graphics: GeForce GTX 760 / 960 or equivalent with 2 GB VRAM
DirectX: Version 11
Storage: 10 GB available space
Sound Card: DirectX® 11 compatible
Recommended
OS: Windows 7 / 8 / 8.1 / 10
Processor: Intel Core i5 or equivalent CPU rated at 3,5 GHz
Memory: 8 GB RAM
Graphics: GeForce GTX 980 or equivalent
DirectX: Version 11
Storage: 10 GB available space
Sound Card: DirectX® 11 compatible
"What makes Through the Woods so lovely from a horrific standpoint, is that the game's scare tactics are utilized on so many levels. Not knowing what is in the dark, heck even knowing it is worse, adds psychological and subdermal layers fear, tainting every step throughout the luscious scenery."
89 -
Gamephasis
"If you're a fan of survival horror games, Through the Woods is a mesmerizing experience you'll want to encounter. Sometimes the deep emptiness of a rich forest is enough to give you goosebumps."
80 -
NerdReactor
"It's rare these days that any game comes close to emulating the walking nightmare nature of the original three Silent Hill games, but the 'double protagonist' of the real-time and voiced-over mother, beautiful yet desolate environments, and the jarring, painfully honest story make Through the Woods one of the most compelling horror games of the year."
92 -
GameTimeReviews
© 2018 1C Company. Developed by Antagonist AS. All rights reserved.