[woocs]
Super Daryl Deluxe
Shoot rubber ducky arrows, pound enemies with a rhino hammer, and help Beethoven get his groove back in the last totally normal high school themed RPGvania you'll ever want.
Description
System Requirements

Super Daryl Deluxe is an RPGvania with brawler-style combat set inside of a perfectly normal, sprawling, multi-dimensional high school. Like any other perfectly normal school, its students and faculty are going missing and the classrooms have been locked down for weeks. Yes, there's nothing remarkable happening at WFHS whatsoever – just ask the new principal.
Things are bound to get stirred up when an enthusiastic, bizarrely dressed new kid wanders into town. This go-getter's name is Daryl, and he just wants to make friends. What starts out as an innocent effort to help jump-start a young contraband textbook business turns into a harrowing quest through the school and its enormous, monster-filled classrooms in the hope of becoming the most popular kid in town. Oh – and saving everyone's lives is top priority, of course.
No need to worry. There's nothing to see here at Water Falls High School.
Key Features:
Cartoon violence – buy and upgrade over 40 skills to make the kills!
Hundreds of characters like Julius Caesar, Mozart, and the janitor!
A sumptuous open world featuring scads of maps!
More than 15 hours of story with minimal plot holes!
Discover secrets instead of completing the story!
Talk to strangers and run their errands in exchange for sweet loot!
Don fancy equipment like a Dunce Cap or the Super Weenie Sword!
Legendary soundtrack with tunes ranging from creepy to rock opera!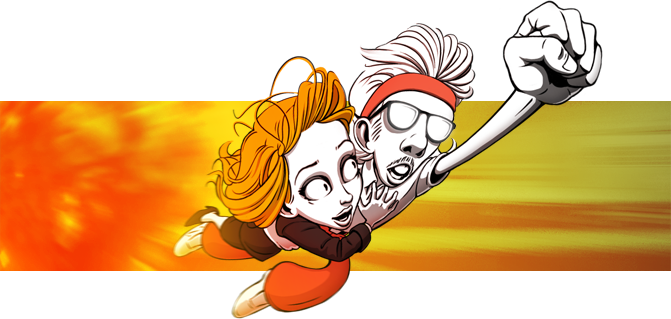 Minimum
OS: Microsoft Windows 7 / 8 / 10
Processor: 2.4 GHz Intel Core 2 Duo or better
Memory: 4 GB RAM
Graphics: Dedicated graphics with 256MB memory or more
DirectX: Version 11
Storage: 8 GB available space
"Super Daryl Deluxe is a must-play title for fans of ridiculous and random humor as this is a definite contender for most ridiculous RPGvania ever made."
Hardcore Gamer
"With a distinct art style, wacky humor, and role-playing elements galore, Super Daryl Deluxe immediately stands out from the crowd."
Game Informer
"It's a really fucking stupid game, and that's what I loved about it."
Destructoid