Sundered: Eldritch Edition
Sundered is a chaotic hand­-drawn metroidvania where you resist or embrace ancient eldritch powers, a challenging and unique take on a classic genre from the creators of Jotun, now with local co-op!
Description
System Requirements
Extra Video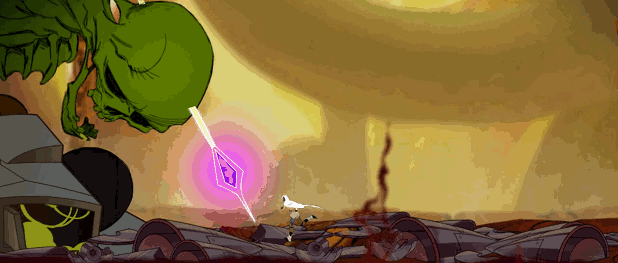 Resist or Embrace
You play Eshe, a wanderer in a ruined world, trapped in ever-­changing caverns filled with hordes of terrifying enemies. Harness the power of corrupted relics to defeat gigantic bosses, at the cost of your humanity. Resist or embrace.
Sundered: Eldritch Edition includes the Magnate of the Gong update , adding local co-op multiplayer support for up to 4 players, along with new areas and a chaotic battle against the new Magnate of the Gong boss!
Key Features
Beautiful hand­-drawn art and animation
Chaotic encounters against hordes of enemies
Epic boss fights
Optional local co-op for up to 4 players
Hundreds of upgrades and multiple character builds
A mix of hand-crafted & procedural levels
Multiple endings and over 15 hours of gameplay
Core Gameplay
Explore.
Delve into a procedurally generated dungeon at the heart of a beautiful hand-drawn world. Classic Metroidvania elements such as backtracking, secrets and unlocking new abilities that open new regions are at the core of the exploration experience.
Fight.
Confront hordes of dynamically spawned eldritch monsters. Put your skills and reflexes to the test through furious melee combat and epic boss fights against uniquely designed enemies. All monster spawns are dynamic, constantly keeping you on your toes.
Die.
Designed as a challenging adventure for seasoned gamers, frequent deaths are part of the Sundered experience. But taking our inspiration from our favorite rogue-like games, death in Sundered is only the beginning.
Upgrade.
When you die, you respawn in the Hub, where you level up and customize your character. Equip and upgrade a host of unique Perks, stats and special Abilities hidden throughout the world.

Minimum
OS: Microsoft Windows 7 (64-bit)
Processor: 1.8 GHz Processor
Memory: 4 GB RAM
Graphics: DirectX 10-compatible graphics card with at least 256MB of video memory
DirectX: Version 10
Storage: 3 GB available space
Minimum
OS: OS X Yosemite
Processor: 2.4 GHz Intel Core i5
Memory: 4 GB RAM
Graphics: Intel Iris 1536
Storage: 3 GB available space
Minimum
OS: Ubuntu 14.04
Processor: 1.8 GHz Dual-Core
Memory: 4 GB RAM
Graphics: DirectX 10-compatible graphics card with at least 256MB of video memory
Storage: 3 GB available space
"A completely wonderful Metroidvania."
RPS Recommended -
Rock, Paper, Shotgun
"A compelling and rewarding experience that you'll be eager to play again."
8.0 -
Gamespot
"A sublime blend of Metroidvania and Lovecraft."
Recommended -
Eurogamer
©2018 Thunder Lotus. All Rights Reserved. Sundered and Thunder Lotus are registered trademarks of Thunder Lotus in the U.S. and in other countries.