Hellblade: Senua's Sacrifice
From the makers of Heavenly Sword, Enslaved: Odyssey to the West, and DmC: Devil May Cry, comes a warrior's brutal journey into myth and madness. Set in the Viking age, a broken Celtic warrior embarks on a haunting vision quest into Viking Hell to fight for the soul of her dead lover.
Description
System Requirements
Extra Video
Created in collaboration with neuroscientists and people who experience psychosis, Hellblade: Senua's Sacrifice will pull you deep into Senua's mind.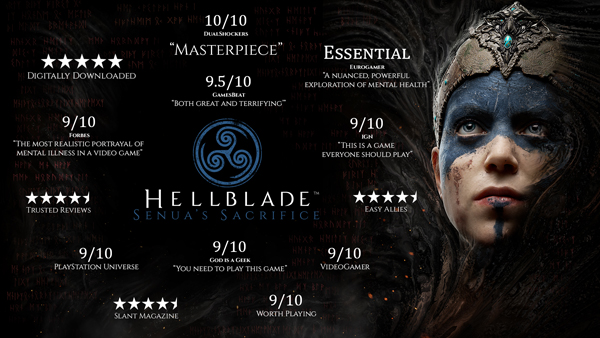 Minimum
OS: Windows 7, 8, 10
Processor: Intel i5 3570K / AMD FX-8350
Memory: 8 GB RAM
Graphics: GTX 770 with 2GB VRAM / Radeon R9 280X 3GB
DirectX: Version 11
Storage: 30 GB available space
Additional Notes: Minimum spec screen resolution: 1280x720
PRIVATE CONTENT
Enter password to view
Please enter valid password!
"masterclass of atmosphere, storytelling, and the marriage of mechanical and conceptual design."
90 -
IGN
"Hellblade: Senua's Sacrifice is both great and terrifying, taking the player on a journey into madness."
95 -
GamesBeat
"Ninja Theory crafts a highly competent action game and a nuanced, powerful exploration of mental health."
Essential -
Eurogamer
© 2017 Ninja Theory Ltd. All Rights Reserved.