Aegis Defenders
Take on wild beasts, ruthless soldiers, and ancient gods in this 2D Action-Platformer inspired by Tower-Defense combat.
Description
System Requirements

HUMANITY HAS BEEN BROUGHT BACK INTO THE DARK AGES, BUT REMNANTS OF A ONCE HIGHLY ADVANCED CIVILIZATION STILL EXIST.
In a world where control over ancient technologies means power, a ruthless Empire has arisen. You play as a team of Ruinhunters searching for the one thing that can save their village – a legendary weapon known as Aegis.
Explore, build, & defend in this 2D platformer that blends Metroidvania style combat with Tower Defense strategy.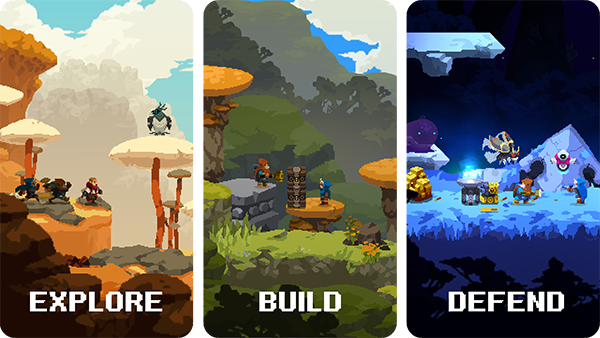 EXPLORE
Discover the world of Elam, a beautiful yet dangerous place lost to time. Brimming with dangerous beasts, forgotten ruins, and powerful relics, Elam is brought to life with uniquely handpainted pixel art style.
BUILD
Level up your items and weapons in the shop to take in bigger and badder enemies.
Adjust your strategy on the fly with the "Fusion Build" system. Try fusing different combinations of items together to change your defensive setup.
FIGHT
Fight off enemies from all sides – but you won't have to do it alone. With Dynamic Character Swapping you'll need to switch between multiple characters on the battlefield, position your characters carefully, and utilize their passive abilities effectively to survive.
Various Tower Defense Scenarios – Defending one point can be hard enough but that's just the beginning. As the game progresses, you'll need to defend moving targets, targets that have dynamic abilities like activating doors/weapons, and even targets that don't want to be protected…
FEATURES
Play through the game in either single-player or split-screen coop .
Build blocks, turrets, and traps to defend an area from hordes of enemies in our Tower-Defense inspired combat.
Learn the secrets of the ancients and the origin of an empire in our extensive story mode.
Minimum
OS: Windows 7
Processor: Intel Core 2 Duo E5200
Memory: 4 GB RAM
Graphics: GeForce 9800GTX+ (1GB)
DirectX: Version 10
Storage: 2 GB available space
Recommended
OS: Windows 10
Processor: Intel Core i5
Memory: 8 GB RAM
Graphics: GeForce GTX 560
DirectX: Version 11
Storage: 2 GB available space
Minimum
OS: Mac OS 10.7 Lion
Processor: Intel Core i3
Memory: 4 GB RAM
Graphics: GeForce GTX 470
Storage: 2 GB available space
Recommended
OS: Mac OS 10.12 Sierra
Processor: Intel Core i5
Memory: 8 GB RAM
Graphics: GeForce GTX 570
Storage: 2 GB available space
"A fantastic game that looks and sounds great, and more importantly, it's really fun! Highly recommended."
9.1/10 -
GBATemp
"The level design is inspired, challenging players to adapt their playstyle on the fly, and the gameplay is riveting and enjoyable."
9/10 -
Critical Hit
"Aegis Defenders is a smooth, well-thought-out ride. The original art, charm, and in-game universe only add to it, and I'd love to see more."
8.5/10 -
Destructoid